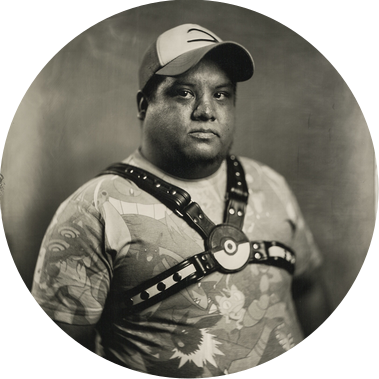 Biography
Adam David Bencomo is a photographic artist currently based out of Baltimore, Maryland. He grew up in Albuquerque, New Mexico and lived Seaside, California for a short time.
Adam received his MFA from the Maryland Institute College of Art in Photographic and Electronic Media. He also received a Bachelors of Arts in Religious Studies from the University of New Mexico. Adam currently teaches as an Adjunct Instructor at the Maryland Institute College of Art in the First Year Experience Program and also lectures at the Baltimore School for the Arts.
Adam identifies as male-ish. Adam uses both he/him/his and they/them/their pronouns. He is in the process of dismantling toxic masculinity and all the negative traits that has come with what it means to "be a man." His work deals with a variety of subjects including but not limited to memorialism, gentrification, public art interaction, human consumption, and human usage. Currently, Adam has been focusing on queer subcultures and what it means to identify as a queer person of color. He creates queer art by humanizing their subjects while preserving the unique cultures in which they belong. He is also an advocate of body radical acceptance meaning that all bodies are beautiful.
Adam has exhibited at the Daegu Culture and Arts Center (Daegu, South Korea), Demuth Museum (Lancaster, PA), Proyectos Galería (Mexico City, MX), Stevenson University, Red Line Contemporary Art Center (Denver, CO), Photographic Center Northwest (Seattle, WA), Tyler School of Art at Temple University (Philadelphia, PA), University of Wisconsin–Milwaukee, Torpedo Factory Arts Center (Alexandria, VA), BOX13 Art Space (Houston, TX), and of course, the Maryland Institute College of Art.
Photo Courtesy of Jay Gould.
CV